ARITEX PRODUCTS CO., LTD. DALIAO, Taiwan

Incorporated in 1983, ARITEX PRODUCTS CO., LTD. specializes in the manufacturing of hardware accessories for luxury yachts. Our product line includes anchors, mooring post, railings, angler's chairs, steering wheels, fuel tanks, water tanks, pull door, stainless steel windows, hydraulic lifting boom, hydraulic shoring ladder, etc., all of which are available in hundreds of system items and thousands of specification sizes. To enhance production capacity and achieve higher quality, substantial sums have been invested in automated equipment for making replacement, including imported German Laser Cutting Machine, CNC Automatic Milling Machine, CNC Automatic Lathe, CNC multi-function Pipe Bender, CNC Automatic Punching Press, CNC Automatic Folding Machine, CNC Automatic Shearing Machine, etc.

unselect all/select all
You have 0 products selected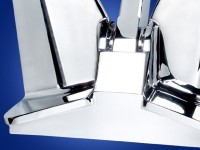 High grade stainless steel SUS 316
Hand polished to provide the long lasting protection against corrosion.